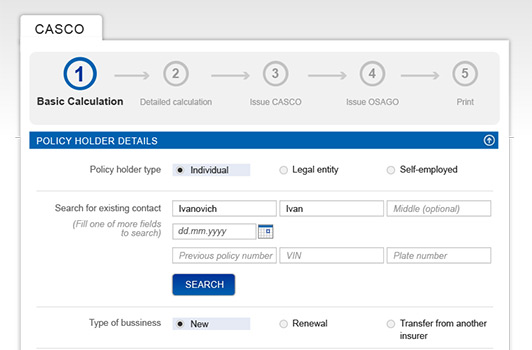 Project Type
Enterprise Content Management
Client
Oranta
Client Profile
​Oranta is a Russian insurance company founded in 1995. The company offers more than twenty insurance and reinsurance products and services. Oranta is among the top 40 Russian insurance companies.
The Solution
​BSH developed an enterprise social network for the agents and brokers of Oranta. The portal consists of two logical and functional layers – transactional and non-transactional.
Transactional functionalities provide integration with the BI system of Oranta. The brokers and agents can issue online policies: Casco and MTPL and find price quotation. For the two products BSH developed easy-to-use step-based process with attractive design. BSH also integrate the portal with Oranta's Busness Intelligent platform based on Oracle to display variety of user specific data like policy for renewal, customers, claims, used policies and etc.
The non-transactional functionalities corresponds to the main goal of the project – to create motivating environment that should boost productivity and efficiency of the portal's users. Several social tools were developed intended to motivate the people to work with the portal. There are a lot of features typical for the popular social networks like messages, personal wall, badges for activity, document libraries, leaderboard with ratings of the most active users, online training, forum and wall of fame. The combination of all features creates a unique experience for its users and the ultimate outcome is a unique product that distinguish the company and enforce its image among the employees and partners.