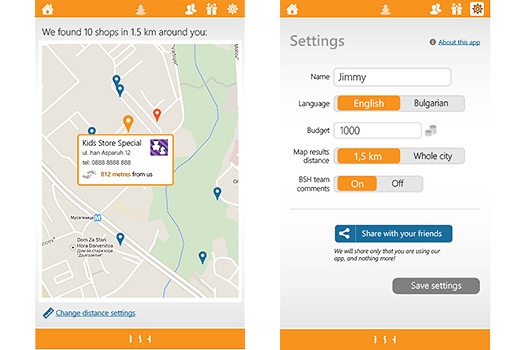 Project Type
Mobile Apps
Client
BSH
Client Profile
​Giftify is an internal BSH project. It was developed as a part of the 10th anniversary of the BSH Christmas tradition. Every year our team prepares a unique message for our customers, partners and friends. Giftify is a step forward.
The Solution
​Giftify is a free cross-platform mobile application that helps its users to plan their Christmas presents and find the nearest shops. The list with people guarantees that nobody will be missed. To ensure this the user can set reminders and avoid the stress, rush and confusion at the last minute. Through the Foursquare integration users can quickly, easily and every time find the nearest place where they can buy a selected present. Furthermore, for better control and cloudless holidays and days afterwards, Giftify allows budget defining and sticking on it.
Giftify can be installed on the most popular mobile platforms like Android, iOS, and Windows Phone.